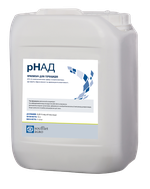 The product designed to maximize the effect of used (or applied) products by optimizing pH level and reducing the water hardness.
Crops: all crops
Compositon: sugar components, phosphoric acid
Leaflet:

download (2.8 MB)
YOU SHOULD ADD ADJUVANT to the mixture in the case of:
ASSORTED working mixture
UNSATISFACTORY DISTRIBUTION of mixture on the leaf
ASSORTED DISTRIBUTION of products in the upper layer of soil
EVAPORATION and too fast DRYING-OUT of the application surface
WASHOUT in the soil and DROPPING-OUT of the leaf
BAD PENETRATION of products into the plant
ATTRITION BY WIND during the application
рН of water– WHY IT IS IMPORTANT?
If рН of water is more than 7 – the active substance degrades and its efficiency decreases due to ALKALIC HYDROLYSIS. The reaction rate is measured by the half-decay period, which is the time at which the efficiency of the mixture is reduced by 50%. The alkalinity, or the pH of the water, is a balance or the imbalance of Н+ and ОН- ions.
EXAMPLE
Fungicide - SDHI
Chemical group- carboxamide
| | | |
| --- | --- | --- |
| Acid environment (<6,5) | рН 5 | Half-decay period – >100 days |
| Neutral environment (6,5-7) | рН 7 | Half-decay period – 5 hours |
| Alkalic environment (>7) | рН 9 | Half-decay period – 1 hour |
Water HARDNESS
Water hardness NEGATIVELY affects some of pesticides. Negatively charged molecules of pesticide are attached to positively charged molecules of IRON, CALCIUM and MAGNESIUM in hard water. When linked to pesticides, these minerals create molecules which can not reach the main goal (the fight against harmful organisms), since they start to act much slower, or precipitate in a mixture.
MAIN GOAL– TO IMPROVE THE QUALITY OF APPLICATION
improvement of quality of the working mixture
improving the structure of the jets
reduction in the amount of fine-fractional drops
equalize the size of the drops to the homogeneous
avoiding the attribution of the wind
better distribution on the surface
better penetration into the plant
maintaining the properties of the working mixture
reduction of washout
better maintenance of the mixture in the organs of the plant