VOUCHER PROGRAM 2018 from BASF
We are the official distributor of BASF products and work with VOUCHER PROGRAM 2018.
To participate in this program our client should buy the products from the Promo Package:
1 Promo Package for 1 Voucher
No limit in the number of sales operations within the period of campaign – 01.11.2017-31.10.2018 (few waybills possible)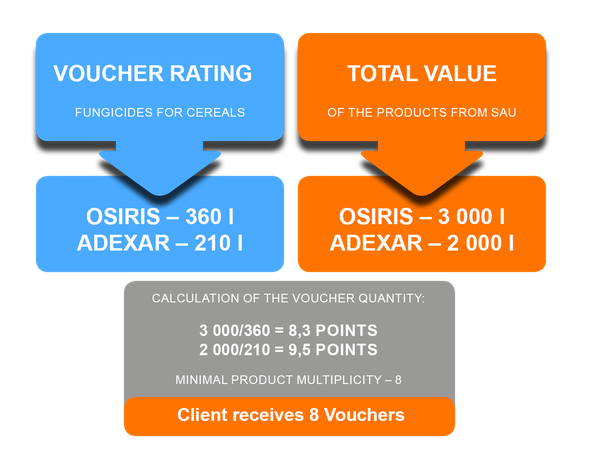 BASF will exchange the Vouchers into waybills and provide SOUFFLET AGRO UKRAINE client with the detachable part of the Voucher (another part + waybill will be kept by BASF).
THE MAXIMAL QUANTITY OF VOUCHERS is equal to the minimal multiplicity of one product in Promo Package.
The client will provide his voucher to SAU to get the Motivational bonus:
only for CPP purchased from SAU
bonus in UAH equal to the voucher rating
only for original Voucher with the copy of waybill (SAU shall take the original from Client and provide rge Voucher to BASF)
The Client shall provide the Voucher not later than 1st of October 2018!
Later than this date the Vouchers will be rejected!
---

Додаток №1 до Договору про використання Ваучерів.docx (302.6 KB)

Додаток №2 до Договору про використання Ваучерів.docx (25.0 KB)